Indirect-fired portable diesel bed bug heater
Comfortably treat up 1500 square feet in a standard 8-10 hour day.
This heater has an embedded burner with combustion air obtained from the main ventilation fan. Thermal Flow heaters feature a heat exchanger that contains the flame and expels fumes throughout a chimney connected to the outside. Heat can be recirculated from the treatment area into the back of the heater.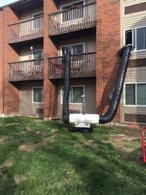 • CSA certified
• Can be controlled by thermostat, humidistat or timer
• 1ft power cord
• AISI 430 stainless steel combustion chamber with four-pass heat exchanger technology
• Automatic post ventilation cycle to cool down the combustion chamber
• Electronic flame control unit
• Overheating thermostat (safety device turns off unit and requires a manual reset)
• Fuel lines in hydrocarbon-resistant rubber wire-mesh protected
• Screw on fuel tank cap
• Fuel tank drain plug
• Electric control panel
• Oil filter; pre-heated oil filter
• Combustion air pressure switch (safety device turns off unit and requires a manual reset)
• 10" pneumatic wheels
• Single Fuel Line Kit: This accessory allows the unit to recirculate hot oil from the return line back into the filter. The hot oil in the filter eases restarts and increases the performance of the unit in extreme cold temperature

FOUR PASS HEAT EXCHANGER TECHNOLOGY
Combustion chambers are manufactured using AISI 430 stainless steel with aluminized steel heat exchanger to increase performance. The new four pass heat exchanger tech-nology allows exhaust gases to increase heat exchange with the cooling air and obtain maximum thermal efficiency. Our heaters are the most efficient in the industry.
| | |
| --- | --- |
| Heat Input BTU/H | 295,982 |
| | |
| Heat Ouput BTU/H | 258,704 |
| | |
| Fuel Consumption US GAL/H | 2.17 |
| | |
| Heated Airflow CFM | 2,530 |
| | |
| Temperature Rise ºF | 126 |
| | |
| Power Supply V, PH, HZ | 120, 1, 60 |
| | |
| Fan Motor Power HP (RPM) | 1, (1700) |
| | |
| Current Rating AMPS | 11.8 |
| | |
| Max Length Flex Duct (1-Way) FT | 75 |
| | |
| Max Length Flex Duct (2-Way) FT | 35 |
| | |
| Duct diameter | 16" |
| | |
| Flue Size IN | 6 |
| | |
| Tank Capacity US GAL | 27.7 |
| | |
| Run Time HOUR | 13 |
| | |